Stone Lake Lodge
A lakeside lodge features private access to trophy stocked and spring fed fishing lake and dock that can accommodate up to 12 guests, but can also be a romantic retreat for just two. Serene, secluded, and newly built, this lodge offers a large patio area equipped with grill and lakeview, an outdoor fire pit, stone walking trail, picnic area, hot tub, and natural landscaping that ensures guests truly enjoy the outdoors. Once inside, guest can enjoy central air conditioning, a kitchen built for entertaining, large windows for lake viewing, vaulted ceilings and artisan, hand built furnishings. Other features of the cabin include arcade games, large 70-inch television with satellite television, wet bar, and a spa like bathroom. This setting is truly heaven on earth.
This brand-new lodge is a charming and luxurious retreat for the traveler that wants to slow down and take in the peace in quiet that the surrounding area provides. Relax on the front porch with some wine while listening to the sound of the water fountain or fish off the dock of our spring fed private and fully stocked lake.
Coshocton Crest Lodge
Situated atop the rolling hills of Coshocton county, sits a 7,000 square foot Amish built custom log home. This luxury log home will accommodate up to 16 guests making it perfect for family gatherings and larger groups. The home boasts a large fully equipped kitchen area, two gas fireplaces, unique décor, western style saloon, theater room, arcade room, large outdoor pavilion with stone fireplace, grill, sunflower field (in season), deer plots, and private balcony and observation areas. Guests can enjoy privacy and 100 acres of property for exploration. Luxury amenities, accommodations and breathtaking 360 views, make this a unique and memorable getaway.
This expansive log home is the perfect getaway for the traveler who loves the outdoors and appreciates 5 star amenities. The home is beautifully decorated and true to its natural surroundings. Inside and out, Coshocton Crest Lodge has something for every age.
Ridgewater Lodge
Nestled in the stunning Hocking Hills: we welcome you to experience our new and luxury Ridgewater lodge. Enjoy pure privacy with your group of up to twelve, ten if all adults.
There's a gorgeous new home theater to show your favorite film. Everyone will enjoy this enchanting and serene getaway. Come and see what's blooming in the gardens and watch the butterflies dance through an array of exquisite flora. Find wildflowers and mushrooms on a walk on the trails and enjoy a picnic on the grounds of this wondrous 60 acre paradise.
Enjoy catch and release fishing on our beautiful stocked pond. Roast marshmallows at one of the three fire pits under the light of the stars. Feel refreshed by a dip in the saltwater, heated year-round wading pool or bubble up in the warming jets of the Jacuzzi.
View White tail deer milling and catch a glimpse of our twin Asian carps that help maintain the heart shaped pond. Don't forget to catch your favorite movie in our new elegant theater!
Ridgemont Lodge
Striking the perfect balance between stately home and cozy cabin, The Ridgemont is one of the most stunning lodges we've ever created. Its environmentally conscious design marries the traditional with the modern and boasts all the luxury amenities you'd expect to find in a 5-star resort.
It's located in prime Hocking Hills real-estate; surrounded by woodlands, sweeping hills and impeccably maintained lawns. Perfect for families and friends, The Ridgemont Lodge accommodates up to 14 people, 10 if all adults – with five bedrooms (each with their own Smart TV) three Bedrooms contain King sized beds, two Bedrooms each with two sets of Twin bunk beds, four luxurious family-sized bathrooms with walk in showers and plenty of living space, promising a comfortable stay for everyone.
Inspired by an authentic log cabin, The Ridgemont's custom crafted real-log exterior fits seamlessly into its surroundings. With warm woody scents and fresh air, this place feels like home instantly.
Angel's Envy Lodge
Head away for a holiday like no other at Angel's Envy Lodge. The most recent addition to Bourbon Ridge Retreat's plethora of luxurious lodges, Angels Envy is yet another absurdly luxurious country retreat nestled in the heart of Hocking Hills' lush countryside.
Fusing rustic charm with modern amenities, Angels Envy is a 7,000+ square foot country house that comfortably accommodates up to 24 people.
With eight incredible bedrooms (5 bedrooms with King beds, 2 bedrooms with a Queen and one set of Twin bunk beds and 1 bedroom with three sets of Twin bunks beds) and six and a half fully equipped bathrooms, there's a reason this lodge has been named Angels Envy!It may be vast, spacious and fit to house a whole family or team of colleagues, but it's also warm, inviting and filled with personal, unforgettable features.
Webb Pointe Lodge
Webb Pointe is located right in the heart of the Hocking Hills State Parks. A modern twist of luxury that includes your own Private Swimming Pool, In-ground Hot Tub, Custom Theater Room & 2 Full Gourmet Kitchens!
Rush Resort Lodge
Rush Resort is the perfect combination of luxury and nature intertwined. Situated on 21 acres just 5 min from the Hocking Hills State Parks, Heated Swimming Pool, Custom Built 3 Tiered Theater Room & Fully Stocked Pond all for your enjoyment!
Laurel Run Lodge
Acccomodating up to 17 guests, the Laurel Run experience is so much more than just a stay at a Hocking Hills lodge.
It's 140 acres of paradise especially reserved for you and your group's vision. Paired with the most luxurious, high-end accommodations and amenities available, it's anything but the place for a typical vacation rental, wedding destination or corporate retreat.
In fact, it's where setting, service and serenity all come together to offer an experience like no other in Ohio's Hocking Hills or anywhere else, for that matter.
Maker's Lodge
Lavishly appointed, recently redecorated and incomparably comfortable, The Makers Lodge is a two-storey, 5,800-square-foot, 7 bedrooms country estate outfitted with everything from a full-service kitchen, two bar areas and a two-story fireplace, to the latest in modern conveniences and, cutting-edge entertainment and comfort.
It even has its own movie theater. And that's just indoors! Outside, there's an in-ground swimming pool, 16-person, in-ground commercial-grade hot tub, a cooking pavilion and even an 18th-century, European-inspired firebrick oven where guests may try their hands at making artisan pizza, flatbreads and other wood-fired baked goods: the first of its kind in the Hocking Hills lodging scene.
But, as is the case with every Ohio Luxury Lodging property, the high-caliber experience The Maker's Lodge provides its guests goes far beyond what meets the eye.
Features
Sleeps 12
Fire Ring
Full Kitchen
Fully Stocked Pond
Gas Grill
Indoor Fireplace
Theater Room
More properties like Stone Lake Lodge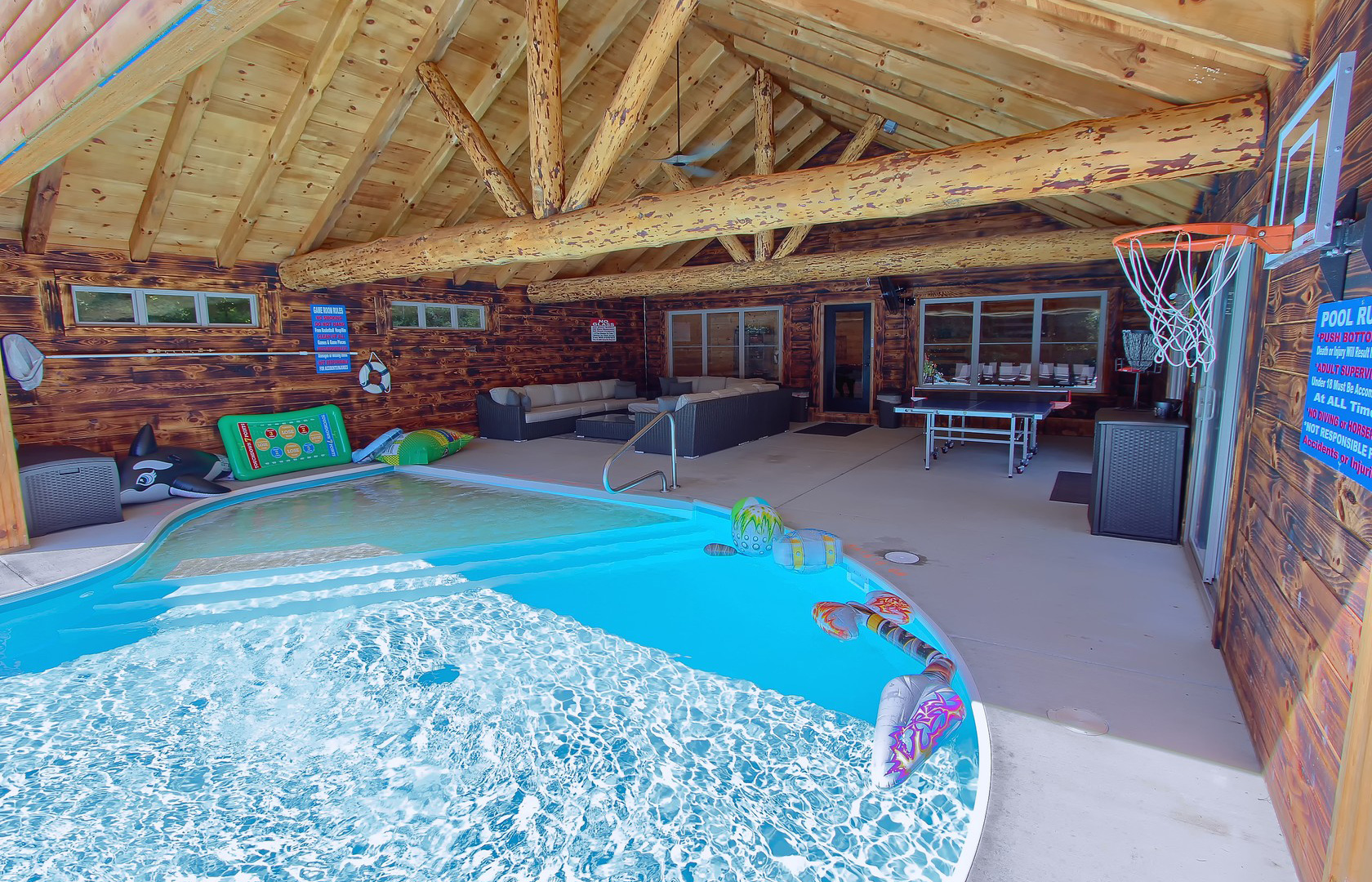 Angel's Envy Lodge
Sleeps 24
16 Persons Hot Tub
6.5 Baths
8 Bedrooms
Indoor Outdoor Pool
Stone Seated Firepit
Theater Room
Head away for a holiday like no other at Angel's Envy Lodge. The most recent addition to Bourbon Ridge Retreat's plethora of luxurious lodges, Angels Envy is yet another absurdly luxurious country retreat nestled in the heart of Hocking Hills' lush countryside.
More Details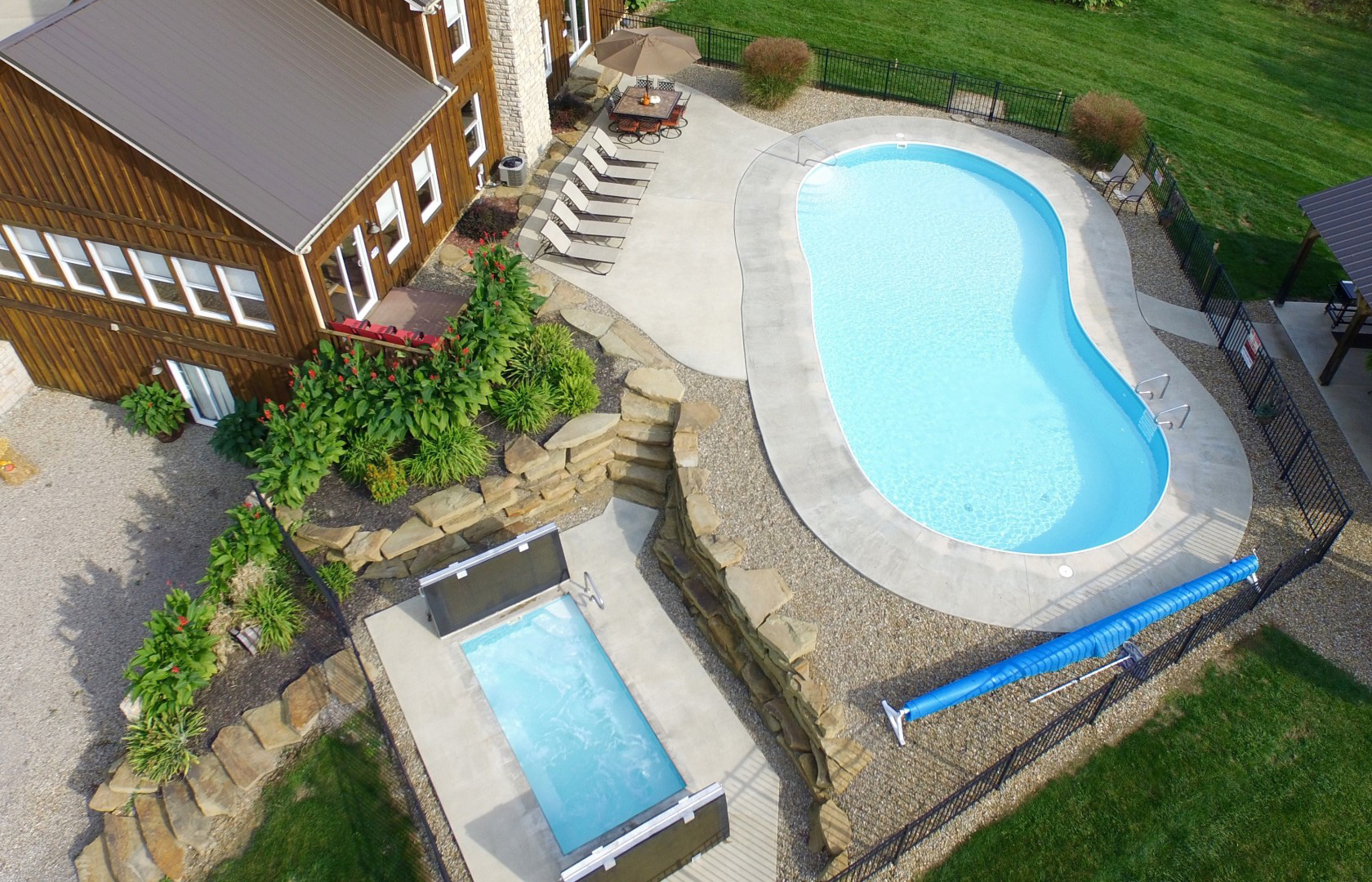 Maker's Lodge
Sleeps 24
4.5 Baths
7 Bedrooms
Fire Brick Oven
Game Room
In-ground Pool
Theater Room
Situated on 202 private acres, this property features the Makers Lodge, and the Bookers & Woodford cabins. The Makers Lodge can accommodate 24 guests, making it ideal for large family vacations and corporate retreats. The cabins can accommodate up to 4 guests, making them perfect for small families or a romantic getaway.
More Details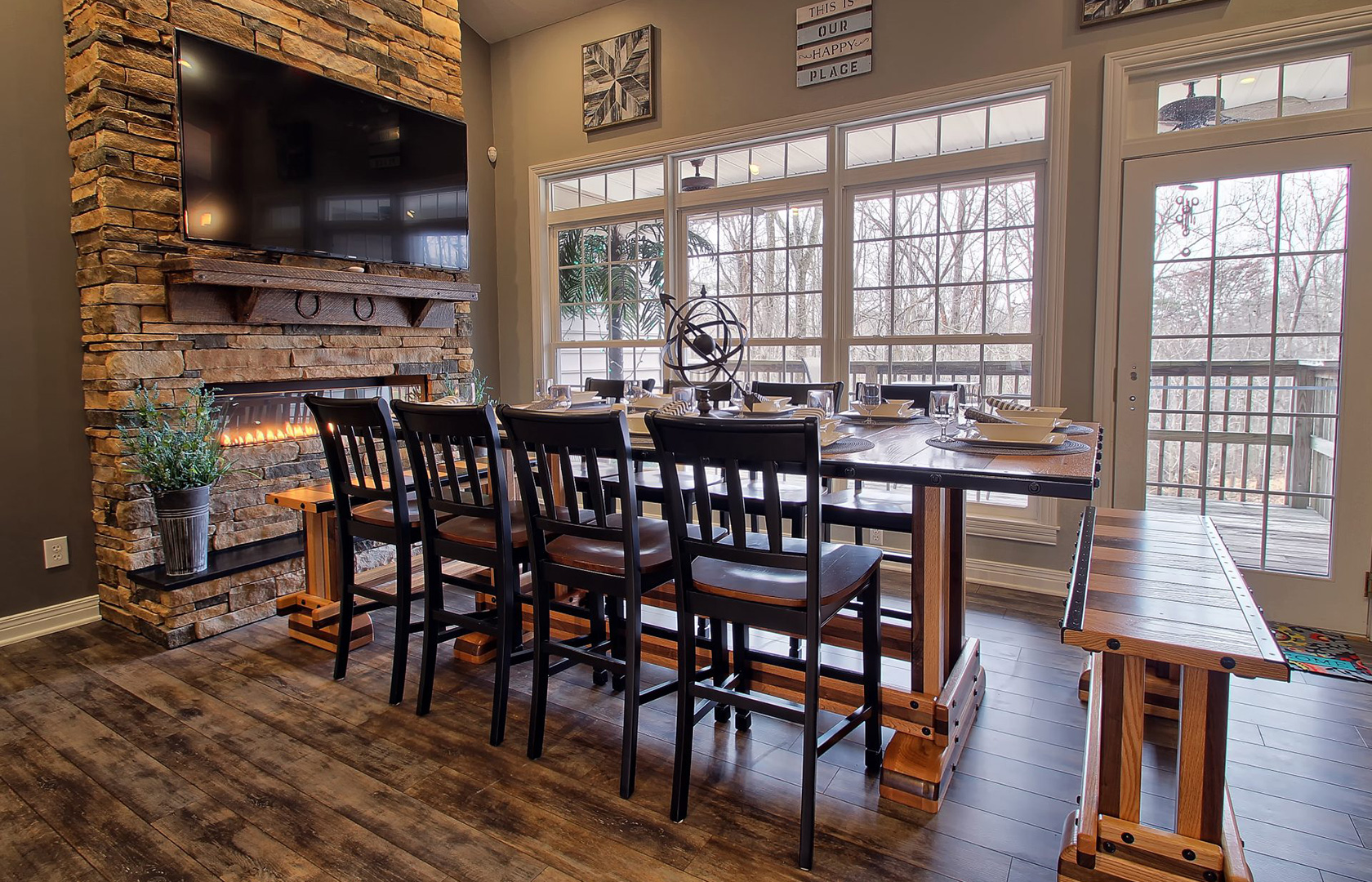 Webb Pointe Lodge
Sleeps 14
4 Baths
6 Bedrooms
8 Persons Hot Tub
Fire Ring
In-ground Pool
Indoor Fireplace
Theater Room
Webb Pointe provides mid size groups with a private and luxurious Hocking Hills vacation experience. A twist of modern comfort combined with the rustic elegance of the Hocking Hills makes for the first of its kind in the area and in the Ohio Luxury Lodging's Luxury Collection
More Details