Freedom Lodge
We welcome you to Freedom Lodge by Turkey Ridge Lodges. With 5 bedrooms and 4.5 bathroom lodge tucked away in the woods of Hocking Hills, Freedom Lodge has something for everyone. From a private gym to indoor pool, this lodge is a must see – to view more information please visit https://turkeyridgelodges.com/freedom-lodge or contact them directly at turkeyridgelodgesllc@gmail.com
*DISCLAIMER** Freedom Lodge by Turkey Ridge Lodges is NOT a part of Ohio Luxury Lodging management. For more information, inquiries, or to book your next Freedom lodge getaway please visit, https://turkeyridgelodges.com
Features
Sleeps 26
Firepits
Game Room
In-ground Pool
Large Bar
Outside Deck
Spa
Stocked Kitchen
Theater Room
Workout Room
Availability
Sep 2022
Su
Mo
Tu
We
Th
Fr
Sa
01
02
03
04
05
06
07
08
09
10
11
12
13
14
15
16
17
18
19
20
21
22
23
24
25
26
27
28
29
30
Oct 2022
Su
Mo
Tu
We
Th
Fr
Sa
01
02
03
04
05
06
07
08
09
10
11
12
13
14
15
16
17
18
19
20
21
22
23
24
25
26
27
28
29
30
31
Nov 2022
Su
Mo
Tu
We
Th
Fr
Sa
01
02
03
04
05
06
07
08
09
10
11
12
13
14
15
16
17
18
19
20
21
22
23
24
25
26
27
28
29
30
Dec 2022
Su
Mo
Tu
We
Th
Fr
Sa
01
02
03
04
05
06
07
08
09
10
11
12
13
14
15
16
17
18
19
20
21
22
23
24
25
26
27
28
29
30
31
Jan 2023
Su
Mo
Tu
We
Th
Fr
Sa
01
02
03
04
05
06
07
08
09
10
11
12
13
14
15
16
17
18
19
20
21
22
23
24
25
26
27
28
29
30
31
Feb 2023
Su
Mo
Tu
We
Th
Fr
Sa
01
02
03
04
05
06
07
08
09
10
11
12
13
14
15
16
17
18
19
20
21
22
23
24
25
26
27
28
More properties like Freedom Lodge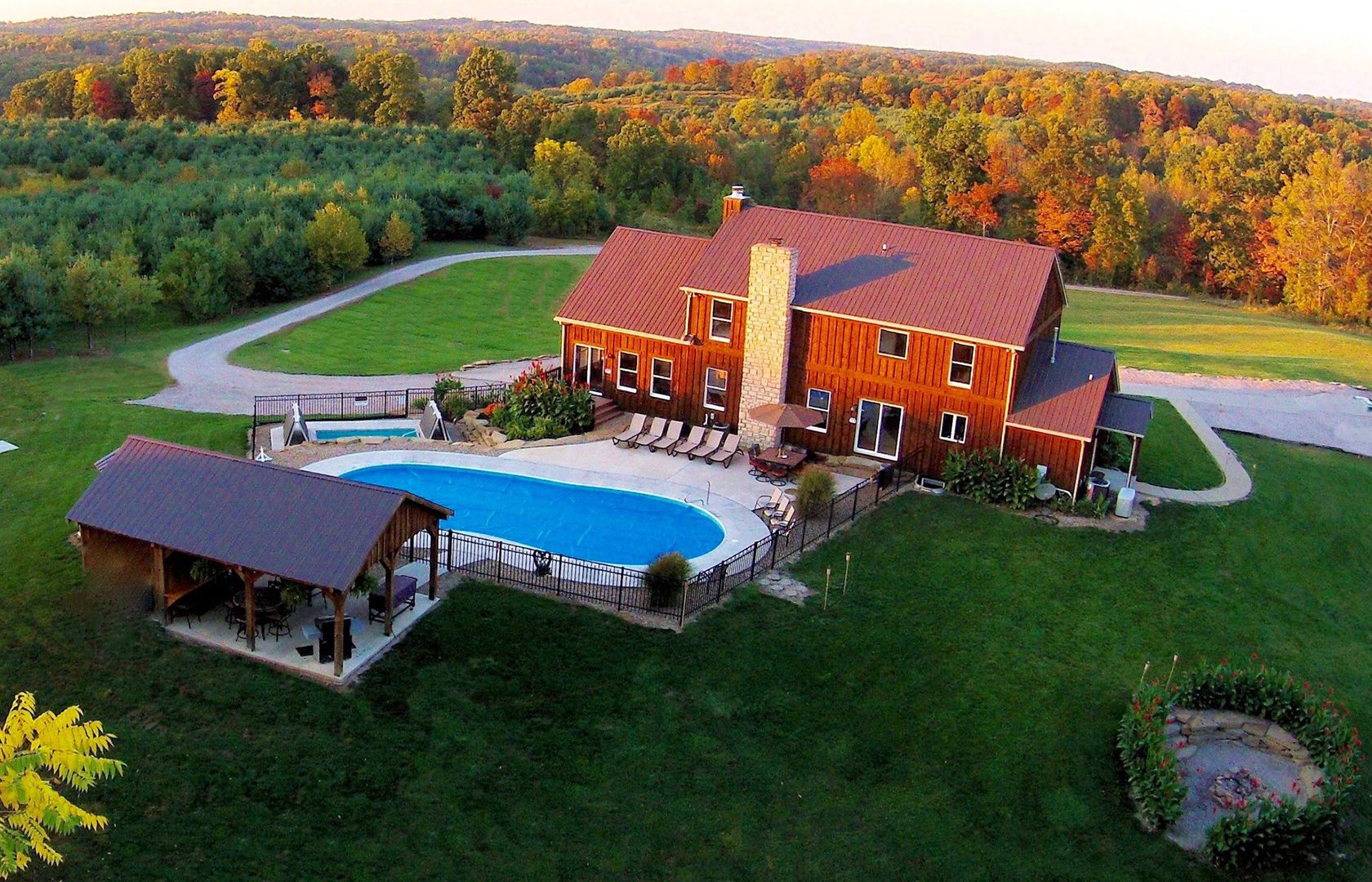 Maker's Lodge
Sleeps 24
16 person hot tub
4.5 Baths
7 Bedrooms
Fire Brick Oven
Game Room
In-ground Pool
Theater Room
Situated on 202 private acres, this property features the Makers Lodge, and the Bookers & Woodford cabins. The Makers Lodge can accommodate 24 guests, making it ideal for large family vacations and corporate retreats. The cabins can accommodate up to 4 guests, making them perfect for small families or a romantic getaway.
More Details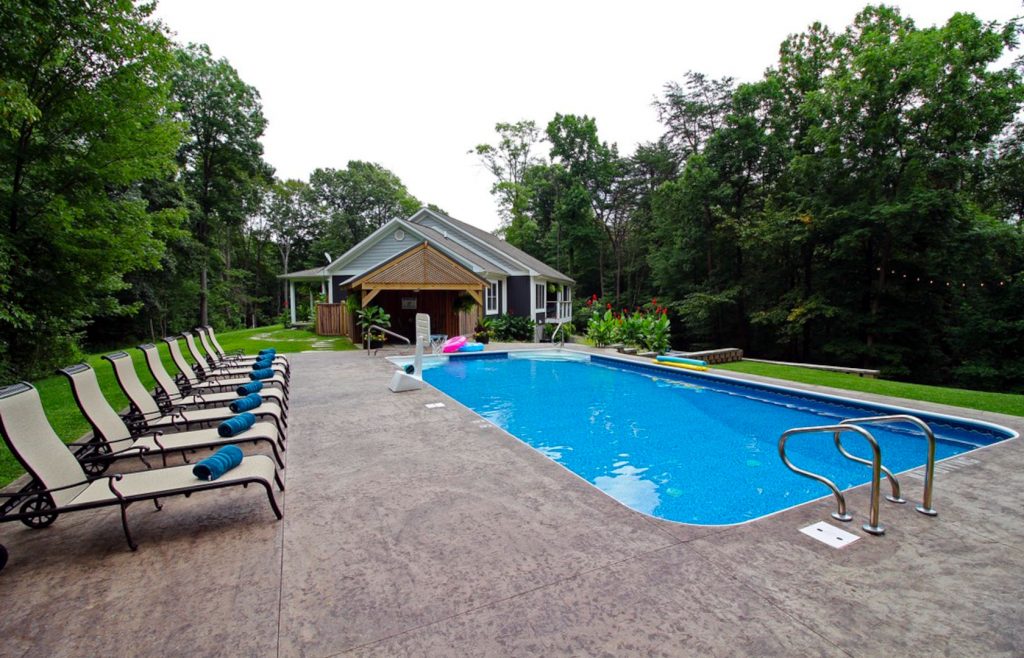 Webb Pointe Lodge
Sleeps 14
4 Baths
6 Bedrooms
8 Persons Hot Tub
Fire Ring
In-ground Pool
Indoor Fireplace
Theater Room
Webb Pointe provides mid size groups with a private and luxurious Hocking Hills vacation experience. A twist of modern comfort combined with the rustic elegance of the Hocking Hills makes for the first of its kind in the area and in the Ohio Luxury Lodging's Luxury Collection
More Details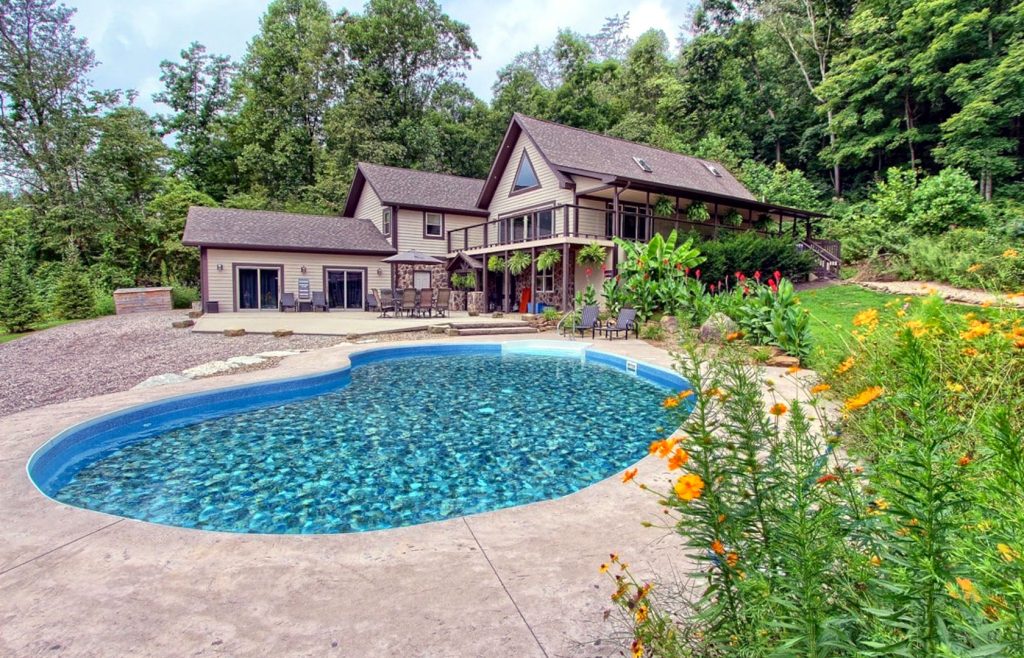 Rush Resort Lodge
Sleeps 22
6 Baths
6-8 person hot tub
8 Bedrooms
Game Room
In-ground Pool
Theater Room
Sits on 20 private acres, and is located minutes from the state parks and other major attractions in Hocking Hills. The lodge at Rush Resort can comfortably sleep up to 22 people. 7-bedroom + loft, 6-bathroom lodge, equipped with its own movie theater and large, heated swimming pool Rush Resort also has some of the most beautiful scenery in Hocking Hills.
More Details